2018-2019 WI High School Youth Apprenticeship
- Sussex, Wisconsin, Hartford, Wisconsin
Quad/Graphics
Overview
More than just another employer, we pride ourselves on being a company with a soul. Quad's culture is built on a rich legacy of passionate, innovative people always striving to find a better way. As a global marketing services provider, Quad leverages worldwide capabilities and leading-edge technology to help brand owners market and distribute their products more efficiently and effectively - transforming the industry with the combined power of digital and print.
Fueled by innovative, interesting days, careers at Quad/Graphics and QuadPackaging instill a sense of empowerment and possibility as you gain the skills and confidence to advance as our platform evolves. Join the Quad team today and develop your career – work side-by-side with skilled professionals, operate multi-million dollar pieces of equipment, and experience first-hand the values that have guided us from day one. Work hard, move fast, contribute new ideas and proudly wear Quad Blue!
Full Time and

part time

positions
8 or 12

hour shifts

Level: Entry to Skilled

Paid Vacation
Glassdoor Reviews and Company Rating
Success Profile
What makes a successful Machine Operator at Quad/Graphics?
Check out the traits we're looking for and see if you have the right mix.
Goal-oriented 7
Motivational 5
Team Player 6
Innovative 5
Results Driven 8
Confident 7
Traits are on a scale of
0
to
10
Additional Traits
Adaptable
Consistent
Detail-oriented
Problem solver
Productive
Self-starter
Sensible
Trustworthy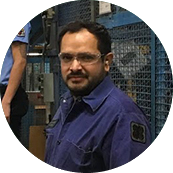 Everado - Press Operator
"Running a machine is all I wanted to do when I started. I am thankful that I was able to learn a new career and have new opportunities at Quad."
Learn More About Us
Join Our Ranks – Advancement, Culture and Innovation

Meet Rondell – CareerPath to Success with Quad

Innovate – Quad/Graphics' Corporate Values
Responsibilities
A leading global provider of print and media solutions, Quad/Graphics is powered by a passion for innovation and the most advanced platform in the industry. Our collaborative team of "can-do" people continually challenge the status quo, creating groundbreaking solutions that push the boundaries of communications.
WI Youth Apprenticeship Program 2018-2019
Quad/Graphics is participating in the Youth Apprenticeship Program, offered through the Wisconsin Department of Workforce Development for the 2018-2019 school year at the following Wisconsin locations: Sussex, Hartford, Pewaukee, West Allis & Lomira. 
Quad/Graphics is a leading global provider of print and media solutions, Quad/Graphics is powered by a passion for innovation and a collaborative team of "can-do" people that continually challenge the status quo, creating groundbreaking solutions that push the boundaries of communications.
Headquartered in Sussex, Wisconsin, our company has more than 70 print-production facilities nation-wide. With a corporate culture that encourages growth opportunities for employees, the Youth Apprenticeship program was created with that same philosophy in mind. 
The Youth Apprenticeship Program at Quad/Graphics provides High School juniors and seniors the opportunity to gain real-life experience and universal skills via work shadowing, company education classes and career based training programs. During this one- or two-year program Youth Apprentices will job shadow in various departments with teams of subject matter experts so they can learn where their interests and skills may lie when they join the workforce in the future.
Responsibilities:
Maintain the academic and attendance requirements to participate in the Youth Apprenticeship Program.
Observe company rules and other requirements identified by the employer
Participate in progress reviews scheduled with mentors, school personnel and parent(s) or guardian(s).
Complete program/company training requirements.
Demonstrate maturity and responsibility
Responsible for transportation to and from workplace.
Qualifications:
Meet the requirements of the particular program and demonstrate competency as set forth in the program goals.
Meet academic requirements for the program including a passing grade/score in courses required for admission to the Youth Apprenticeship Program.
Attend all scheduled shadowing and training under the Youth Apprenticeship program
What Youth Apprentices can expect during their time at Quad/Graphics:
Part One:
Attend training sessions focused primarily on safety requirements, industry requirements and what to do in emergency situations
High level rotations through different departments focused on production to learn about how each plays a part in the overall Manufacturing process
Gain an understanding of the overall Manufacturing process, including product creation from start to finish and processes involved in creating a quality product
Gain experience and understanding of planning process, how to communicate effectively and collaborating in a team setting
Learn about Company Culture, Values, Leadership and other Manufacturing industry related topics
Part Two:
Learn how various types of tools and advanced equipment and machinery, are used and operated
Learn to read and interpret different technical drawings, work orders/job tickets, symbols, documents and manuals
Learn the product assembly process, quality and safety checks and process for selecting different tools and materials needed throughout the product creation process
Gain understanding of different types of machinery, job shadow how they are operated and monitored for correct operation
Learning preventative maintenance techniques, troubleshooting and problem solving
Hour requirements for Youth Apprentices to obtain program credits (for Juniors & Seniors):
2 Year Program - Total of 900 hours min.
1 Year Program - Total of 450 hours min.
Additional Company Information:
Quad/Graphics is an equal employment opportunity employer. The Company's policy is not to unlawfully discriminate against any applicant or employee on the basis of race, color, sex, sexual orientation, gender identity, religion, national origin, age, military or veteran status, disability, genetic information or any other consideration made unlawful by applicable federal, state, or local laws. The Company also prohibits harassment of applicants and employees based on any of these protected categories. The Youth Apprenticeship Program's candidate qualifications are dictated by the Department of Workforce Development. However, the Company encourages and welcomes all applicants to apply for any position posted or vacancy within the Company.
Drug Free Workplace